Photograph by Alecia Brouwer
Tom Leveen is the author of Random, Sick, manicpixiedreamgirl, Party, and Zero (a YALSA Best Book of 2013). A frequent speaker at schools and conferences, Tom was previously the artistic director and cofounder of an all-ages, nonprofit visual and performing venue in Scottsdale, Arizona. He is an Arizona native, where he lives with his wife and young son.
SEE LESS
Tom Leveen is the author of Random, Sick, manicpixiedreamgirl, Party, and Zero (a YALSA Best Book of 2013). A frequent speaker at schools and conferences, Tom was previously the artistic director and cofounder of an all-ages, nonprofit visual and performing venue in Scottsdale, Arizona. He is an Arizona native, where he lives with his wife and young son.
Get updates about Tom Leveen and recommended reads from Simon & Schuster. Plus, get a
FREE eBook
when you sign up!
Books by this Author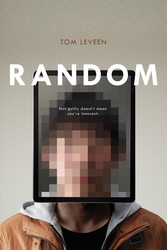 Get a
FREE eBook
when you join our mailing list.
Plus, receive updates about Tom Leveen,
recommended reads and more from Simon & Schuster.