Joanne Settel
Joanne Settel is a professor of biology at Baltimore City Community College. She makes her home in Columbia, Maryland, where she enjoys hiking, biking, and bird watching. Dr. Settel is the coauthor with Nancy Baggett of Why Does My Nose Run?, How Do Ants Know You Are Having a Picnic?, and Why Do a Cat's Eyes Glow in the Dark?, also published by Atheneum.
Books by this Author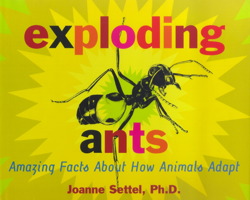 A wasp lays its eggs under a caterpillar's skin so that its young can eat the caterpillar's guts as they grow. A young head louse makes its home on a human hair and feasts on human blood. Frogs use their eyeballs to help swallow their food. From small worms that live in a dog's nose mucus to exploding ants to regurgitating mother gulls, this book tells of the unusual ways animals find food, shelter, and safety in the natural world. If animals all ate the same things and lived in the same...
Read more about this book